I've been meaning to post this for awhile, but with planning a wedding freaking me out, wardrobe building has taken a back burner.  So without further ado…

After reading article after article I've put together a basic wardrobe checklist. Huzzah!
Without a huge long intro, you can download these checklists here: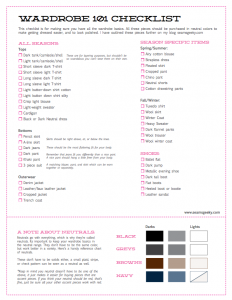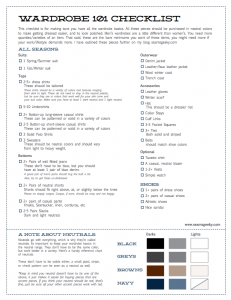 Cleaning out one's closet can be a daunting task, but before we build our wardrobe, we need to see how much of our wardrobe we actually have already. So often we have clothes in our closet that are perfect basics, we just don't think of them that way. I think it's really easy to think of everything in your closet as a statement piece that speaks mounds about who you are, where in reality we have all the basics we need hidden in plain sight.
I've included a key to neutrals on the bottom of the checklist. I refer a lot to "Dark, Mid-tone, and light neutrals" because if someone looks awful in black, you shouldn't buy black things because it's on a checklist. A "little black dress" can just as easily be a dark grey, brown, or navy. If you're not sure what colors work best on you, drape different colors of fabric near your face and look at yourself int he mirror. Some colors will drain color from your face while others will make you glow.
I also want to mention that a neutral for your wardrobe doesn't need to be black, grey, brown, or navy. You can have red be a neutral, you just have to be careful that everything else you buy or make will work with red.
How to use your wardrobe checklist:
So with checklist in hand I ripped open my closet doors and started evaluating all the pieces of clothing in my closet. I pulled out each piece and evaluated it on the criteria:
Do I like it?
Does it fit?
Is this on my checklist?
If I like it, I try it on (unless I know it already fits) and evaluate the fit. After you try it on, look long and hard at yourself in the mirror. I like to stand back and squint my eyes. Turn around and evaluate different angles, then ask my lovely soon-to-be husband how it looks if I can't decide.
A few tips for trying on clothes:
If it looks a little strange and you're not sure if you like it or not, play with the hem. Sometimes taking a hem up or letting it out slightly can make a so-so skirt, dress, or pant look amazing on you.
Try on a pair of shoes you would wear with the outfit you've tried on. You might find out that those frump slacks look amazing when you throw on a pair of heels with them.
Trying on clothes and evaluating them like this will also give you an idea of what shapes flatter you, helping you pick out clothes in future. Pretty nifty!
Next, I compare it to my checklist. I then place it in 1 of 5 piles: 


I then organized my closet by type of garment and color so I can easily find items to wear. I put all items living in The Land of Ill-Fitting Clothes in a separate box which is labeled. I don't want any clothes that aren't wearable in my closet to distract and frustrate me.
Something worth mentioning:
A wardrobe basic that needs altering should not be crossed off your checklist until it is altered. You want your checklist to reflect what items you can actually wear now. This is the same for items living in the Land of Ill-fitting Clothes.
After going through my closet I realized I only had about 5 items on the checklist. I was shocked because I thought I'd have a lot more. But now, I am armed with items I need to make or find!
Stay Geeky
–Laurel
If you have any questions or comments about the checklists, just leave them in my comments. I'll answer them the best I can.